Are you interested in getting involved in Meet Me On Bernard?
Find out what opportunities there are on the page below.
Bring your business to the street with the Meet me On Bernard "Pop-Up" Program! Meet me On Bernard (MMOB) is a vibrant outdoor pedestrian zone in Downtown Kelowna featuring sunny patios, parklets, local retail, street games, and special events.
The MMOB "Pop-Up" Program gives businesses and community groups the opportunity to reach the many visitors to Downtown Kelowna over the summer months. Several spaces in the 200 Block of Bernard Ave (from "The Sails" to Water Street) have been designated as temporary locations for community and business activations.
Applications are now being accepted for the MMOB 2023 "Pop-Up" Program.
Terms & Conditions for the MMOB "Pop-Up" Program include:
All applications are subject to review by the Downtown Kelowna Association (DKA).
The DKA reserves the right to refuse any event application. This includes, but is not limited to, applications by:

political or religious groups;
businesses or organizations promoting the use of or selling drugs or alcohol, including cannabis;
special interest groups;
groups who are deemed to be affiliated with hateful or discriminatory behavior.

Maximum activations are 3 per season per business/community group/organization; however, exceptions may be made based on availability.
Designated space will be approximately the size of a parking stall (10' x 20'). All infrastructure must fit within this space.
Parking within the MMOB event site is not permitted, with the exception of during load in/out.
There is no electrical access available onsite; quiet generators may be permitted, with approval.
Infrastructure requirements should be minimal and will require approval by DKA.
A minimum 2 Million Liability Insurance with the Downtown Kelowna Association and the City of Kelowna named as Additionally Insured and the 200 Block of Bernard Avenue as the location.
A valid City of Kelowna Business License is required IF any business operations or monies are being exchanged onsite. If you do not have a valid City of Kelowna Business License and wish to engage in sales activities, you will be required to obtain a temporary Business License from the City of Kelowna.
Food and Beverage vendors may be required to obtain additional permits from Interior Health.
Other requirements as identified by the DKA.

Complete Terms & Conditions can be reviewed on the Application Form.

Available Dates & Rates
Wednesday-Sunday, from 12pm-8pm*
*Not available July 1 & 2, July 22; August 3, August 19. Subject to change with addition of new events. 8 hour period includes 1 hour set-up and 1 hour tear-down. Actual hours of onsite activation may vary subject to availability of event staff.
Daily
DKA Member: $50 + GST
Non-Member: $100 + GST, Wed & Thu / $125 + GST, Fri-Sun
Weekly (5 consecutive days)
DKA Member: $200 + GST
Non-Member: $475 + GST

Select Your Site
Two sites in the 200 Block of Bernard are available. We will do our best to accommodate your selection. You'll make your selection on the Application Form.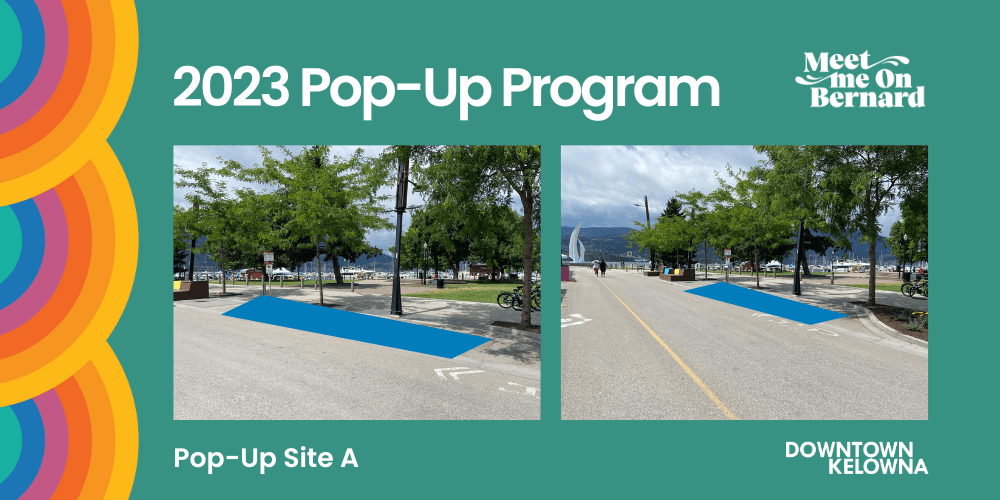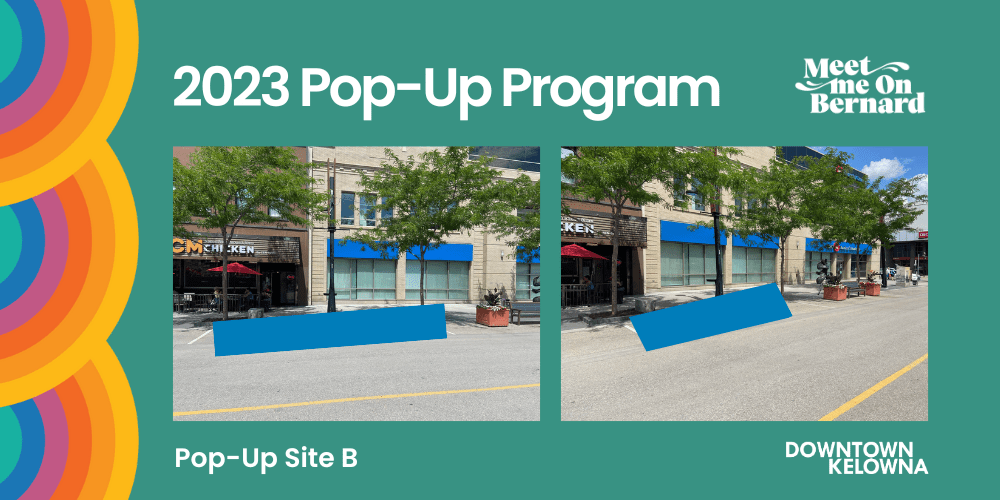 To apply, please complete and submit the application form.



If you have any questions or concerns, please contact:
Kris Johnson
Communications & Events Manager
Downtown Kelowna Association
kris@downtownkelowna.com
T              250.862.3515
M            250.864.2709
Pop-up Program
Mobile Pass: Sign up now!
Become a Sponsor
Pop-up Program
Meet Me on Bernard Pop-up Program
Applications for the Meet Me on Bernard Pop-up Program are now being accepted!
Whether you're an artist looking for a unique place to show your work, a business owner looking for creative ways to get into the community, or part of a non-profit organization with a big idea to share, the Pop-up Program is your chance to take your passion project to the street.
Your pop-up should enhance the event space with positive, family-oriented activities. Ideas include staging a fashion show to show off your latest merchandise, running a fitness class, or demonstrating a unique skill.
Successful applicants receive access to a 10-foot by 20-foot space located in Neighbourhood Plaza on the 400 block, or in Community Square on the 500 Block of Meet Me on Bernard. Pop-ups will be scheduled Monday through Friday, from noon-4 pm, 4 pm-8 pm, or from noon-8 pm.
If you are interested in applying for the Pop-up Program, please complete the attached application and submit to
outdoorevents@kelowna.ca
.
Mobile Pass: Sign up now!
Become a Sponsor